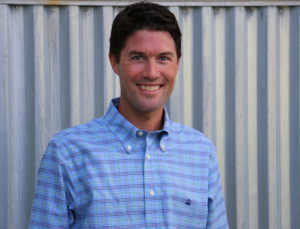 Personal Bio: DJ made the move to Colorado from his home state of Vermont in the late 90's with the intention of skiing Breckenridge for a winter. Like many others, the 300 days of sun got to him and he never left. Bended knee at the top of Peak 9, he secured an unbelievable wife, and her "big fat Greek family". DJ, his wife, and their yellow lab welcomed a baby boy in 2007 and a daughter in 2010 to complete their family. DJ is an all around sports enthusiast; however cycling has been his passion for the past decade. DJ will ride on or off road, and has some fantastic scars and stories to share from his years of competitive mountain bike racing across the Western US. He and his family love to travel and were fortunate to visit some great destinations while his wife was a member of the Greek National Soccer Team (a debate between the couple is "who's the better athlete").
I strive to provide fully integrated civil engineering and land surveying that compliments the architectural, landscape, and aesthetic characteristics of a project, while providing a long term solution to grading, drainage, utility, and site design. Almost everything you see outside the walls of a building, either on the ground or below the ground, we design!
D.J.'s focus in land development consulting includes a wide range of services such as: site planning, grading and earthwork evaluation, grading design, sanitary sewer design, water system design and analysis, cost estimates, intersection design, local and state highway roadway design, storm water infrastructure design, and drainage and storm water design for a variety of project types including historical re-development, capital improvement projects, and mixed-use developments.
D.J. brings an egoless style of management to a project. His style of leadership and project management allows the project team the ability to function in whatever manner is most effective for the success and economic viability of a project. D.J. holds a Bachelor of Science in Engineering from the University of North Carolina Charlotte and is a Licensed Professional Engineer in the States of Colorado, Texas, Tennessee, and Vermont as well as an NCEES Record Holder.
---
CURRICULUM VITAE
Education:
University of North Carolina, Charlotte
Bachelor of Science in Engineering, Minor Mathematics
Professional Registrations:
Licensed Professional Engineer (Multiple States; CO #38997)
Industry Tenure: 17 Years
Professional Affiliations:
CHI Epsilon (Civil Engineering Honor Society)
American Society of Civil Engineers
American Consulting Engineering Council
Professional Endeavors:
Altitude Land Consultants, Inc., Principal
Prior Experience:
Civil Design Group,Inc.Denver, CO
Senior Project Manager
Tetra Tech, Inc. Breckenridge, CO
Project Engineer
Gauss Engineering, Inc. Breckenridge, CO
Project Engineer